Poor Nyla! She knew I was going away again, I could tell by the way she was hovering in the space between the living room and the breakfast room. Don't worry peanut! Mom won't be gone long.
~~~~~~~~~~~~~~~~~~
There was nothing particularly magical about the morning leg of the first day's drive. Just a nice sunrise and very pleasant temperatures...for a change. A relatively easy drive through the center of Houston...for a change.
When I got to Little Rock, though, I decided to take a slightly longer detour around the mess that is I-40 thanks to some serious construction about 30-40 miles east of the city. I discovered this route while returning home from the Flying Pig Marathon in Cincinnati in May. It was my attempt to avoid the seriously backed-up traffic on I-40 and my one hour delay heading east earlier that week. And it worked. It's 20 miles longer but much more relaxed without all of the 18-wheelers and all the tailgating fast-lane drivers.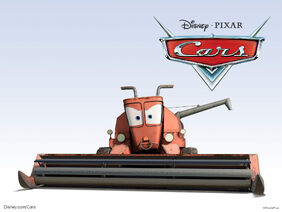 It's even somewhat scenic in parts. Mile after mile of fields of ready-to-pick cotton. The heavy equipment was out and about on the roadways and in the fields, and I saw quite a bit of equipment sitting at the ends of driveways, ready for use, possibly delivered there on loan or rental.
Somewhere along the road east of Clarendon, I rounded a curve and came up behind a behemoth harvester, the width of its blades spanning the width of the two lanes of road. It pulled over to the right as much as it could, but I still had to drive on the opposing lane's shoulder to clear it. When I looked at it in my rearview mirror after passing it, got a view of it from head-on, I immediately thought, "It's the raging 'bull' named Frank, from the movie
Cars
!"
Even with this detour I made good time, driving 680 miles in 11 hours, including numerous stops along the way for gas, for food, for water, to argue with the GPS, or for nothing in particular...just to stop. And I had no idea how my time compares to what it would have been had I stayed on I-40, or had I taken the Arkansas DOT-suggested bypass onto US 70 and shared it with hundreds of 18-wheelers, but I didn't care...how's that for a stress-relieving detour?!
I spent the first night in Brownsville TN and had an easy 180 or so miles the next morning to Nashville.
~~~~~~~~~~~~~~~~~~
My hotel room in Nashville wasn't ready yet (after all, it was only 11:30 AM) so I left my bags with the front desk and then walked to the convention center and the Women's Half Marathon Expo to get my race packet, which came in this really excellent reusable tote bag:
The weather was, in one word, Glorious! Comfortable temperatures, very low humidity, perfect blue skies. After getting my race packet and leaving some money behind in the official event logo shop, I walked across the street and picked up a sandwich at Panera to take with me. Then a nice walk up the hill to the top, where the Tennessee Capitol building looks out over the city and the Cumberland River.
It's a pretty building, not typical of many others. It overlooks a very attractive large plaza.
The city of Nashville decided that, rather than aggrandize politicians, they'd honor their native sons and daughters who made the ultimate sacrifice serving their country in war. It was very well-done.
Here's the Korean War Memorial:
Here's the Vietnam War Memorial, in front of the entrance to the War Museum:
But here's my favorite view of that Vietnam War Memorial...the solders are keeping watch over the polished marble wall that contains the names of all Tennessee native sons lost in that war. The statues are reflected in that polished marble, watching themselves as if to say, "I am here, brothers."
It was getting close to 1:00 PM, and I was hungry. I walked back to my hotel, Homewood Suites, to check on my room status (still not ready) and sat in the very plush dining area and ate half my sandwich, while watching CNN news on one of the giant flat-screen TV's mounted in the room. I saved the other sandwich half for an evening snack. It's a very architecturally interesting hotel, occupying the historic Doctor's Building on Church Street. The rooms are exquisite and if I ever find myself back in Nashville, this is definitely where I'll stay.
Once I got into my room, I examined my purchases from the Race Expo and decided I liked the half-zip fleece so much, I walked back over to the convention center and bought another, in a different color. Silly me!!
Time to get off my feet, surf the 'net, watch something on TV, get my running clothes laid out and ready, set my phone alarm, and then chill out.
Tomorrow: Race day!! And then a drive up to New Castle IN for Founders Feast.